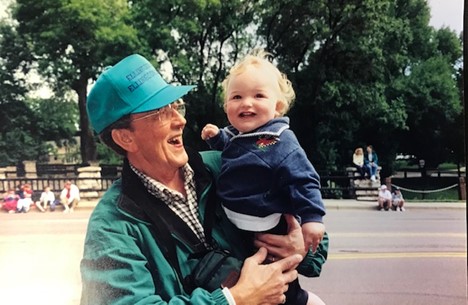 Mark is pictured with his grandpa, Erik Ellingson, the founder of Ellingson & Ellingson. Aside from being Rick, Patti, and Jane's nephew, Mark is an experienced CPA and CFP and another valued member of the team!
Where are you from? Eden Prairie, MN
Where did you go to school? Luther College
What area of your work do you enjoy the most? I enjoy the conversations with clients the most. Getting to know clients and their long-term goals is the way we can make sure our advice aligns with what a client really wants. Building these relationships is what gives me energy to come to work every day.
What is your favorite restaurant in the Twin Cities? For a good date night, I would say Zelo downtown. For simple and transportable, I would say Punch Pizza. For environment, any good outdoor patio like Maynard's on Lake Minnetonka.
Do you prefer to read a book or listen to a podcast? Any favorites? I am a big fan of Ryan Holiday's books – my favorite being Stillness is the Key. I rarely read fiction, which you would notice from my collection.
What are some of your hobbies outside of work? I enjoy staying active whenever I can. This includes peloton rides indoors, biking outdoors in the summer, slow-pitch softball, walks around the lakes, and slicing into the trees and rough during a round of golf.
Which Minnesota sports team is your favorite? Definitely Golden Gopher football. I am a season ticket holder and big P.J. Fleck fan. Hopefully they can "row the boat" to Pasadena and the Rose Bowl at some point during my lifetime. There has been too much heartbreak with the Vikings for me to fully commit my heart to them.
What is your favorite season and why? Late summer/early fall. I love when football season begins, the July humidity has left the air, and you can avoid mosquitoes at family/friend barbeques.