If you are one of our clients you know firsthand that, gone are the days of stuffy, dark, all business and no fun Accounting offices.  We are hiring and would love for you to share this with anyone who would be interested in joining our team.  We are growing and looking to add another Tax Accountant to our team.  A full job posting can be found at Careers – Ellingson & Ellingson CPA (ellingsoncpas.com)
Join our Team NOW!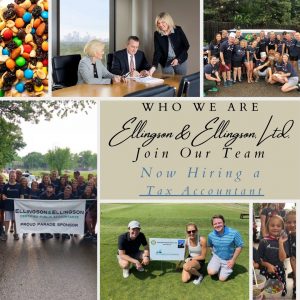 We are looking for a candidate who has a degree in Accounting, Economics, or other related degrees with an interest in Tax Accounting.
We have beautiful offices in Edina, MN and due to growth are ready to add you to our team right now.
You can find additional job position details, a complete job description and learn more about who we are and what we do, here: Careers – Ellingson & Ellingson CPA (ellingsoncpas.com)
What we provide:
Competitive salary plus tax season bonuses, 401(k) matching, health insurance, flexible work hours, vacation, personal time, and reimbursement for CPA exam expenses.
Hybrid options available.
Small team environment.
Strong client base, in business over 40 years.
Beautiful location in Edina, easy on/off of Hwy 100 & Vernon Ave/50th.
Natural sunlight and a great view of downtown from our 5th floor offices.
Free covered parking.
Plenty of nearby food options, dry cleaner, barber, salon, hardware store and grocery store with plenty of options all located in the same building.
Kitchen w/many options, to satisfy all: including snacks (chocolate, nuts, etc.), coffee, tea, Keurig, etc. Team lunches on Friday's during tax season and so much more!
Business Casual.
Not on public transportation route, but commuter friendly community with designated bike lanes and some electric vehicle hook ups.
Shortened Summer work hours.